Welcome to PV-Systems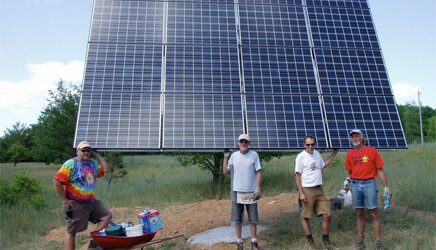 Photovoltaic Systems, LLC is a Wisconsin solar installer and equipment dealer, a National Board of Certified Energy Practitioners (NABCEP) Certified Photovoltaic Installer, a SMA America Power Partner and the 2006 winner of Focus On Energy's Market Provider of the Year award. Photovoltaic Systems is also a factory authorized service center for Schneider Electric power inverters in Wisconsin.
Independently owned and operated by James Kerbel since 1979; located in Central Wisconsin; we currently employ 7 trained, experienced, technicians. James Kerbel is also a founding member of The Midwest Renewable Energy Association and ReNew the Earth Institute. Over the years we have installed more than 1,000, working, solar systems in Wisconsin, throughout the midwest and in other regions, as well as supplied the individual components to many other installers and power producers.